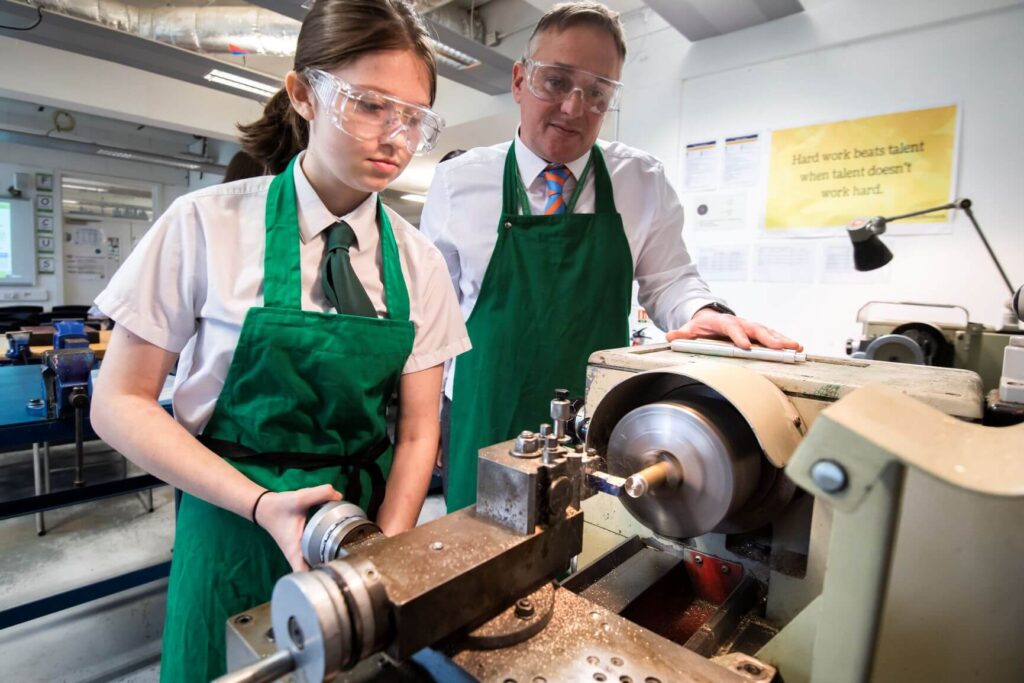 Technology
Our curriculum consists of seven elements which include electronics, energy, plastic, new technologies, programing and papers and boards.
Year 7
The year 7 curriculum has six elements in which our learners focus on over throughout the year; health and safety, timber, fabrics, smart materials, environment and ferrous and nonferrous metals.
The aforementioned elements are delivered through knowledge based learning and practical application. The practical activities have a focus on accuracy and quality of finish. The projects currently studied in year 7 are;
Jewellery – where learners have the opportunity to cast their own piece of unique jewellery.
Textiles LED torch – learners have the opportunity to use our up-to-date textiles labs and work with a number of different materials and components.
Sweet dispenser – to produce this project learners work with a number of timbers, both manufactured and natural, as well as bought in components. There is real environmental focus with this project, especially focussing on re-using jars and containers.
Year 7 learners have the opportunity to utilise our specialist workshops and develop products using laser cutters, 3D printers, CNC routers and Autodesk.
Year 8
The year 8 curriculum consists of seven elements which include electronics, energy, plastic, new technologies, programing and papers and boards. Learners have the opportunity to embed their knowledge gained in year 7 through practical and knowledge based tasks and activities. The practical tasks undertaken in year 8 are;
Electronics – learners have the opportunity to design and make a night light for young children. There is a focus on the environment and environmental issues.
Food – Learners have the opportunity to investigate healthy eating, with a focus on nutrition. Learners utilise the food room, learning about hygiene and making healthy options such as pasta salad.
Mechanisms – learners work in teams to product a vehicle which is powered with only gears, cams and pulleys.
Computer Aided Design (CAD) – leaners use Autodesk, an industry standard CAD software package to produce drawings in isometric and orthographic. Within our dedicated CAD/CAM room learners have the opportunity to turn their drawings into models, through the utilisation of our 3D printers and CNC routers.
Year 9
Learners in year 9 have a focused program of study, in preparation for GCSE options. There are currently four main areas, Food, Textiles, Engineering and Product Design.
In Textiles learners will gain the in depth knowledge required at GCSE. Learners will have the opportunity to design develop and make a textile cushion. They will learn a range of decorative techniques and become confident using the sewing machines.
Students who have chosen Food will gain the basics of food hygiene and procedures for preventing food spoilage and poisoning. They will have the opportunity to create a range of dishes such as pasta salads, curries, chow mein and pastry dishes. Learners will become confident in using a range of equipment in the food room.
Engineering
Year 9 engineering learners will develop a basic understanding of the Key Stage 4 BTEC engineering course. They will use industry standard computer design software to produce engineering drawings of a spinning top, which they will then go on to make in the workshop, working to tolerances of 0.25mm+/-. Leaners are assessed through a written-based assignment which will help them to understand the hazards, risks and control measures in the workshop.
Product Design
Year 9 learners work independently to plan and manufacture a passive amplifier. This practical work will be supported by materials theory on timber, paper and boards. Learners have the opportunity to design using CAD and program the laser cutter to cut out their designs. Over the course of this topic, learners will improve their independence and confidence in the workshop, developing vital practical skills in preparation for KS4.
Year 10 and 11
Edexcel – Engineering B-TEC Technical Award
The engineering qualification has three components that focus on the assessment of knowledge, skills and practices. The components of the course are;
The development of core knowledge and understanding of engineering sectors, their interconnections and how they relate to the roles of employees in engineering industries.
Knowledge and skills of the stages involved in planning and implementing an engineering project.
The development and application of skills such as problem solving, design, creativity, communication and collaboration.
The engineering B-TEC Technical Award is weighted towards coursework, with 40% a written examination.
The engineering department at Middleton Technology School work closely and have built strong links with local engineering companies and higher educational institutes. This enables staff to tailor the course to meet the employment requirements and the needs of our learners in preparation for post 16 education.
Design Technology GCSE
The Eduqas GCSE design technology curriculum is split into two sections. The first part is a written exam (Unit 1) which equates to 50% of the learners overall grade and a controlled assessment (Unit 2) which is 50%. Both elements of the course are completed in the second year of course. Year 10 consists of skills and knowledge based learning in preparation for Year 11. Over the course of Year 10 and 11, learners will build on the knowledge gained at KS3 in 12 core areas timbers, metals, plastics, fibres, energy, electronics, new technologies and the environment.
Learners can choose to specialise in one area, either textiles or product design. This will form the basis of their portfolio.
Textiles specialism:
Year 10 Textiles is based upon learners gaining key skills and knowledge that will enable them to construct a high quality product in Year 11. Learners will make a range of textiles products that will challenge and encourage creativity whilst giving them a wealth of knowledge in both the practical and the theoretical aspect of the textiles specification.
Product design specialism:
In Year 10 learners start to build their skill set ready for Year 11. This consists of a series of mini projects that focus on modelling, designing and working with a range of different materials. During the Christmas period year 10 also take part in enterprise where they work in teams to produce a range of high quality Christmas goods to be sold at the Christmas market for charity.
Hospitality and Catering
The hospitality and catering award is split into two sections. The first part is a written exam which equates to 40% of the learners overall grade. The second part is a controlled assessment which is the remaining 60% of the qualification.
In Year 10 learners will learn the hospitality specification in preparation for their exam that year. Learners will also practice practical skills and prepare a number of dishes in various areas such as pastry, bread making, dairy and meat.