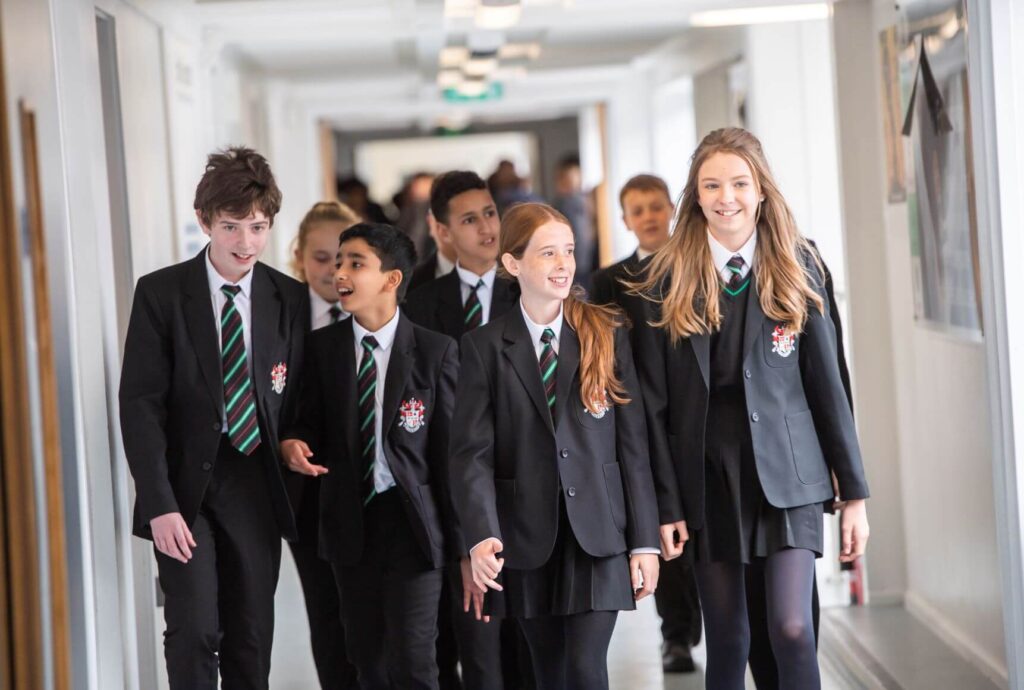 School Uniform
The observation of our uniform policy gives the school a greater standing in the community and instills a sense of pride in the students.

The uniform is practical, widely available and involves the minimum expense for our parents.
Uniform:
School Blazer with Middleton crest.
Black MTS school skirt (maximum of 2 inches above knee) or
Standard cut black school trousers, (not leggings or slim fit/hipster trousers, no jeans).
School jumper or tank top (optional)
White school shirt (long or short sleeved, not fitted or blouse style).
Year 7-10 Tie (black with stripes in colours of Middleton Crest – green, red, silver).
Black short socks or tights (no knee or over-knee socks).
Sensible all black shoes without coloured laces or trim. No trainers, converse or pump style shoes. Shoes must have a definite shoe-type sole, not a pump or trainer-style sole. (If in doubt, please check with school before purchasing).
Physical Education (PE Kit)
Black and green polo shirt with crest. (Black and green long sleeve top with crest optional for outdoor lessons).
Black football socks
Boys: Black shorts with crest, for indoor PE, black tracksuit bottoms, for outdoor.
Girls: Black shorts with crest or plain black leggings, for indoor or outdoor PE.
Trainers
Football boots (optional)
Whilst football boots are optional, they are recommended for activities that take place on the school field such as cross-country, rounders, football, rugby and athletics.
NO VANS or CONVERSE are to be worn for PE lessons.

Our suppliers of school uniforms are:
Broadbent's of Middleton
65 Long Street, First Floor
Middleton
Manchester
M24 6UN
0161 643 5193
info@broadbentsofmiddleton.co.uk
Moses Rochdale
21-23 Oldham Road
Rochdale
OL16 1UA
Tel: 01706 644447
MyClothing
Please visit the website below
Don't forget our Uniform Swap!
Thank you so much to all of the parents who have donated outgrown or unused uniform.
Donating uniform: This can be dropped to Miss Hughes in the student or visitor reception.
Uniform Swap/Request:
Latest News